If you've got beautiful cool blonde hair, you'll want to keep it that way. When it comes to silver hair, there is a tendency for your hue to turn brassy. All this means is that your hair starts to take on a yellow or orange-ish tone (this usually starts a few weeks after leaving the salon). Brassiness in hair is inevitable. This happens because dark hair has to be bleached for it to become silver. When this happens, melanin — the molecule in your hair that gives it pigment — gets diluted. Your hairstylist is then free to apply the new (silver or gray) dye to your hair.




Even with a new dye job, the pigment from your natural hair isn't always completely gone and can start to re-appear shortly after.

So, when you notice that your silver hair starts to take on a warmer tone after a few shampoo sessions, then it's likely remnants of your old pigment.




Introducing Keune Silver Care Silver Savior Shampoo & Conditioner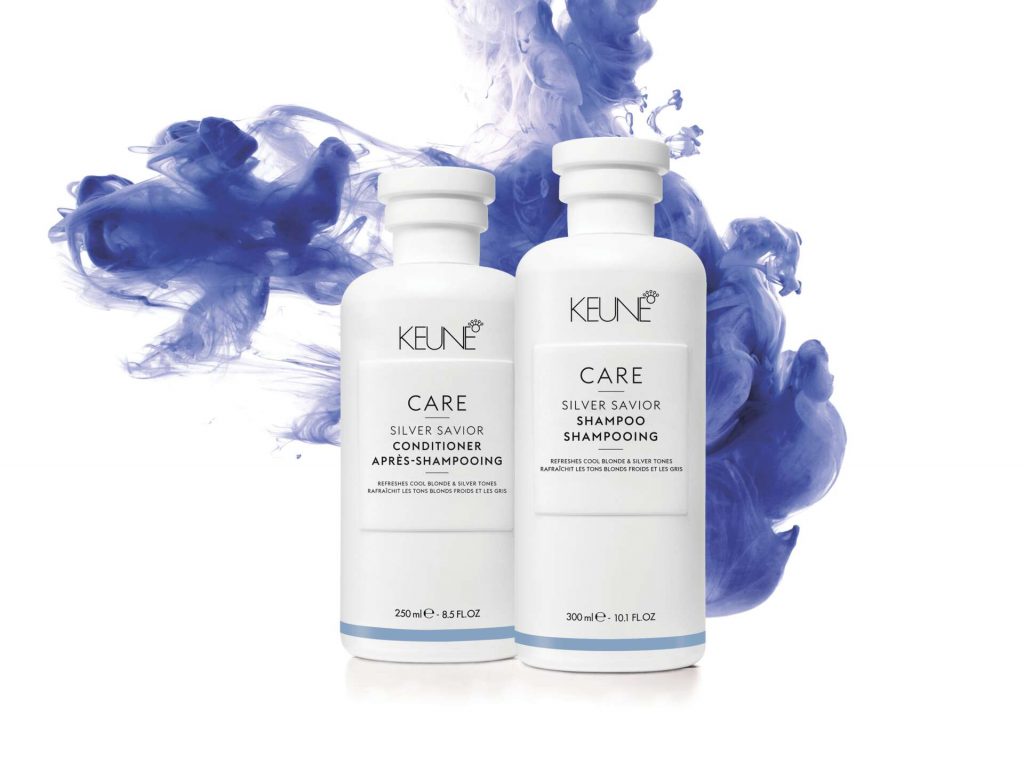 Silver Savior Shampoo contains super strong violet pigments which fight any and all brassiness to neutralize unwanted warm tones and with nourishing Provitamin B5 to keep your hair looking and feeling silky soft while refreshing and brightening your cool, ashy color. Wheat Proteins protect the inner hair structure and add volume.

Silver Savior is designed for those with natural or color-treated blonde, grey, white and silver hair. The formula is powerful in its neutralizing properties as it is gentle on the hair. Both the shampoo and conditioner feature deep violet pigments to undo brassy and warm tones, while pro-vitamin B keeps hair looking and feeling silky-soft.

Here's a tip: you can even use Care Silver Savior Shampoo to tone after a lightening process.

Once the shampoo has done its job to neutralize any yellowing, it's important to add back some of those cool, silver tones. This conditioner does exactly that, depositing custom dyes to leave your gray hair looking fresh and vibrant. Plus, it has those same nourishing and strengthening formula.


How to use


Shampoo: massage a small amount into wet hair. Leave in for one to three minutes and follow up with conditioner.
Conditioner: apply after cleansing with Silver Savior Shampoo for even more toning. Leave in for one to three minutes and rinse thoroughly.

Use this combo once or twice a week to keep those silver grey mane.

All products are suitable for all hair types. Specially formulated for those with cool blonde or grey hair.






For a limited time only, key in promo code [SEPT2021] to enjoy special promotion for purchase of Silver Hair Care at Number76 Online Store!

Promotion period:1 – 30 September 2021


Number76 Online Store – A one-stop online shopping platform for the latest and premium hair care products.
You are always welcome to visit us for a consultation to find out which product routine suits you best!
Follow us for more hairstyle updates and latest promotions at @number76_jakarta