Using hair dryer, flat or curling iron will make your hair look neater and in your ideal style. For optimal hair appearance, various heating tools such as flat or curling iron is widely used during our daily hair styling. With these tools, we can explore various hairstyles. In fact, most people routinely use such tools everyday to set their hair and keep the nice appearance.

However, this styling process has a high potential to damage the hair, especially the hair ends. That is because the high temperature heat from the heating tools can damage the hair. If you use heating tools without any protection, your hair can become dry and split, or even worse, heavily damaged. To prevent that, you need to use heat protectant product which can protect your hair from the heat of styling tools.

Heat protectant products, which are used to prevent problems when styling hair with heating tools.

This time, we would like to recommend the best quality heat protectant for hair that is widely used in professional salons. Let's check it right away!


Global Milbon Repair Blowout Primer

Protects hair from damage without feeling sticky

Global Milbon Repair Blowout Primer helps protect hair from the negative effects of hairstyling. The keratin component reduces frizz and protects hair from the heat of styling tools.

Specially formulated for severely damaged and overly-processed hair, this restorative blowout primer repairs and reconstructs hair by deeply nourishing and renewing hair elasticity through innovative dual-repair technology.

Comes in 2 types that can be selected according to the condition of the hair, "fine hair" and "coarse hair"

In addition, this product does not make your hair feel sticky, so you don't have to worry about your hair becoming flat and greasy. Apply an adequate amount of Global Milbon Repair Blowout Primer to hair before blow drying and styling to keep your hair protected and healthy.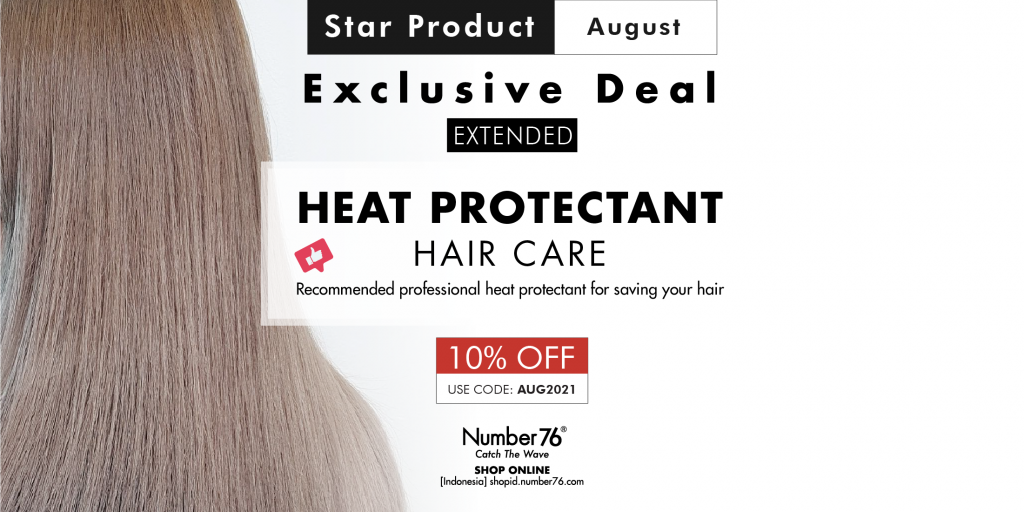 For a limited time only, key in promo code [AUG2021] to enjoy special promotion for purchase of Global Milbon Repair Blowout Primer at Number76 Online Store!

Promotion period:1 – 31 August 2021

Number76 Online Store – A one-stop online shopping platform for the latest and premium hair care products.

You are always welcome to visit us for a consultation to find out which product routine suits you best!
Follow us for more hairstyle updates and latest promotions at @number76_jakarta