With proper care and a little creativity, you can keep your color-treated hair looking shiny and vibrant. This is good news since most of our generations color our hair! To help protect your hair color and keep your hair looking lovely, we offer some of these tips to help you care for color-treated tresses.


After Coloring, Wait 2 Days Before You Shampoo
When you color your hair, wait at least 48 hours to shampoo, preferably longer. If you can go three or four days before shampooing, even better. This will give the color plenty of time to set.

Use the Best Shampoo on Color-Treated Hair
When you wash color-treated hair, be sure to use a color-protecting shampoo. Using a good shampoo will help your color last longer and help maintain the health of your processed hair.

Use Deep-Conditioning Treatments to Smooth and Add Luster to Color-Treated Hair
For extra shine, pamper your color-treated locks once a week with a deep-conditioning treatment. Apply the treatment to damp hair and comb it through from roots to tips. Pull your hair into a bun and pin it into place or wrap it up in a soft towel and leave the treatment in your hair for 30 minutes. When you rinse it out, you'll be left with softer, shinier hair.

Use Less Heat On Your Hair Whenever Possible
Dyed hair is more susceptible to damage, so avoid using blow dryers, curling irons or straightening irons as much as possible. Whenever you can, let your color-treated hair dry naturally. If you are going to use heat, after using your color-protecting shampoo and conditioner, apply a heat-protecting styling product. If you must blow dry your colored hair, keep it on the lowest heat setting. If your blow dryer has a cool blast setting, use that instead.

Use Toning Hair Care Products at Home to Enhance Hair Color Vibrancy
Color correcting toning shampoo and conditioner are the best choice to keep the vibrancy of hair color in between your next salon appointments. Especially if you have a cool or warmth color tones, the brassy yellow or orange tones can appear after several wash.


Here at Number76, we provide the perfect hair care products to prolong and maintain your beautiful hair color at home!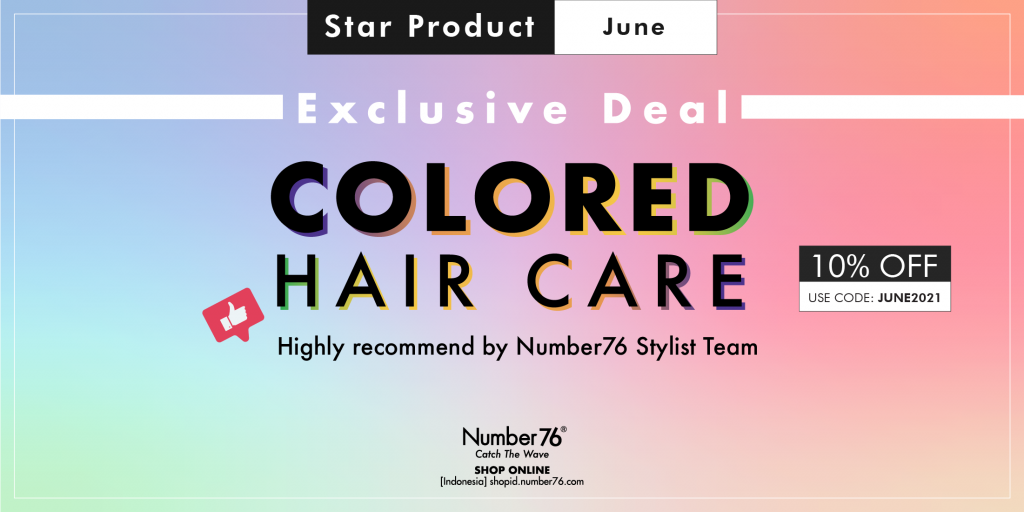 For a limited time only, purchase our SELECTED PRODUCTS with 10% discount by key in the promo code [JUNE2021] only at Number76 Online Store

Promotion period: 1 – 30 June 2021


Number76 Online Store – A one-stop online shopping platform for the curated premium hair care products.
You are always welcome to visit us for a consultation to find out which product routine suits you best!
Follow us for more hairstyle updates and latest promotions at @number76_jakarta