Hair rebonding is a popular semi-permanent chemical treatment for straightening or smoothening your hair, by using hair straighteners and chemical products so that the hair looks straight and shinier.


Who need this rebonding
Hair rebonding is the ideal choice for getting straight hair especially if you have rough, wavy and unmanageable hair. The effects of rebonding last for a long time and it considerably tames down frizzy hair. It can last up to 6-12 months depending on your hair texture and how you take care of it. However, as new hair with the original texture grows out, you can opt for root touch-ups every 5-6 months, depending on your hair growth to maintain and make the effect last longer.
The benefit of hair rebonding is that you are always ready with straight and manageable hair. It also provides longer-lasting results, which save your time and the hassles of every morning styling. Your hair also looks much smoother and shinier.


Is rebonding safe for our hair?
Hair rebonding can damage your hair. However, we can avoid those unwanted things by taking a good care of your hair after rebonding done. Also, there are no dangerous side effects of hair rebonding, but there are some issues you may have to deal with. Your hair may appear dry and dull at times and you may experience hair fall. Your scalp can be flaky but don't worry, it is just the chemical residue falling off. It will be back to normal after few wash.

We recommend that you do special care after rebonding so that your hair remains healthy after exposed to chemical service. It is better to consult a hair expert before you opt for hair rebonding. Remember, before and after the process, you need to follow the advice of your hair stylist. In any case, you have to be very careful handling your hair after rebonding.


Rebonding on colored hair
Do you plan on getting a rebonding for your colored hair? Or maybe get a color after rebonding? Actually, it is better to do rebonding on natural hair, which has never been exposed to any chemical before, but it also depends on what kind of color you plan on getting. To add another chemical process after colored or highlighted hair is most often not recommended, because bleach itself is a heavy chemical as with rebonding. It surely will be damaging your hair, which we don't want it to happen.

If you have only single process which didn't required any bleach or lightening process, then you will most likely get the go ahead from your stylist, but it's not recommended to do these processes in one day because they both tend to dry out strands. Instead, consider doing one process and then waiting at least few months or so for your hair to recover before starting the next chemical session. Make sure your hair gets enough moisture to keep your hair well-moisturized by using proper hair care products before any other session.


Care Tips
After having a rebonding process, you need to treat your hair with extra care. Here's some care tips for you :
Do not wash your hair 3 days after the rebonding process for the best results.
Use cold showers. The cold water helps seal your hair shafts, preventing moisture loss and damage.
Do not swim at pool or beach, chlorine and seawater in the ocean is also quite damaging to rebonded hair.
Do not tuck your hair behind ear and avoid using hair ties or bobby pins at least for a month. It can leave your straight hair with creases.
Go to bed with loose hair. Avoid tying or wrapping your hair before your first wash.
Use products that are made for chemically treated hair. Highly recommended to consult with your hairstylist about the product.
Comb your hair slowly to avoid tangle and help prevent breakage.
Use a cool setting when blow-drying your hair.
Trim your hair regularly to prevent split-ends.
Use hair oil or serum to keep your hair well hydrated.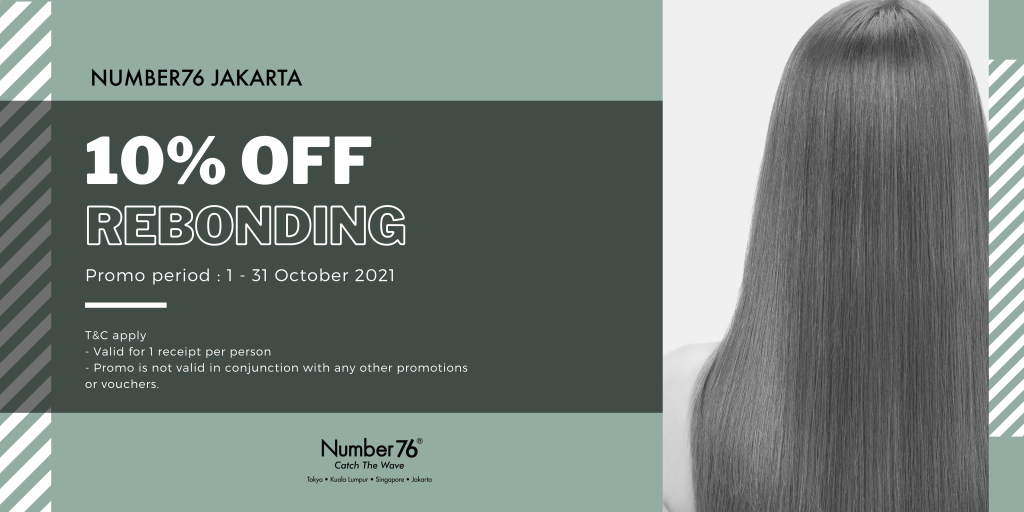 For a limited time, enjoy 10% discount for rebonding service only at Number76 Hair Salon Jakarta!
Promotion period: 1 – 31 October 2021


We are looking forward to serving you very soon.
Feel free to book an appointment online at www.number76.com or contact us at +62-21-5140-1776 / +62822 6122 7676 (Whatsapp)!

You are always welcome to visit us for a consultation to find out which hair style that suits you best!
Follow us for more hairstyle updates and latest promotions at @number76_jakarta