Maintaining smooth and silky hair can be a very challenging especially if you have to use many styling tools and frequently coloring your hair. With all the build-up on your hair strands, running your fingers through your hair might becomes difficult as it feel coarse and dull.



Rather than put your hair with classic messy bun to avoid brushing out your hair, better go find some permanent solution to put it to an ends. Check out these easy ways you can try to turn your hair into smooth silky and healthy hair you ever dream of!

1. Trim your hair regularly
To grow it longer and healthier, trimming your hair regularly is a must. Naturally hair grows about 1 – 1,5cm per month on average. The longer it gets, the ends tend to get drier, that's why need to trim it every six to seven weeks, this will prevent split ends and keep your hair growing healthy.

2. Brush your hair using wide-toothed comb
Hair tends to become more tangled when it's wet. Before washing your hair, brush the strands from root to end, so you are not left with a mess of tangles afterward. Be gentle and do not pull the tangles out. Start brush from ends to tips, not other way around, and you will notice that your hair will become tangle-free more easily.

3. Wash your hair using mild formula
It is important to choose the shampoo with the right formula for your hair type as it will result to your hair condition afterwards.
Washing your hair using the wrong shampoo will eventually dry out your follicles and rinse away the natural oils your scalp because of the detergents and chemicals in shampoos.

4. Don't ever skip conditioner and hair mask
Use a deep conditioner after you shampoo to smooth the hair and free it from any tangles. In addition, your hair will get well hydrated as well.


5. Go to salon for a professional treatment
Treatments help soften and condition your hair, hydrate and nourish it keeping it looking smooth, shiny and healthy. After a hair treatment, your hair will be in better condition for sure. Proper hair treatment is important to maintain healthy hair and prevent damage that might lead to further problems. If you do find that you require more than preventative maintenance, you can visit your favourite salon to have a hair treatment with professional care.

A visit to a hair salon is a great place to learn about your own haircare while pampering yourself. Find out where you're going wrong when it comes to shampoo and conditioning or find out the best way to properly care for your hair at home. Even if you're only going to the salon once in a while, having a trained professional teach you how to manage your hair at home.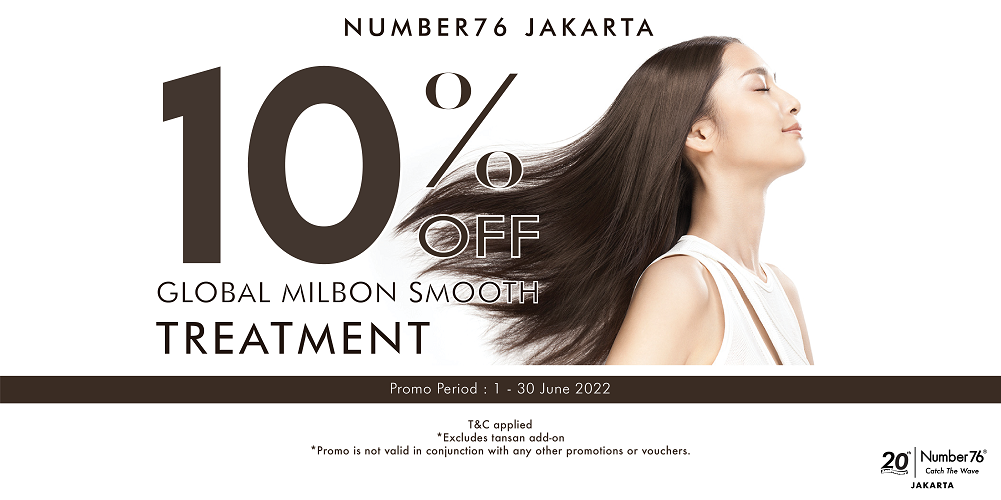 For a limited time, enjoy 10% discount for Global Milbon Smooth Treatment only at Number76 Hair Salon Jakarta!
Promotion period: 1 – 30 June 2022

We are looking forward to serving you very soon.
Feel free to book an appointment online at www.number76.com or contact us at +62-21-5140-1776 / +62822 6122 7676 (Whatsapp)!
You are always welcome to visit us for a consultation to find out which hair style that suits you best!
Follow us for more hairstyle updates and latest promotions at @number76_jakarta