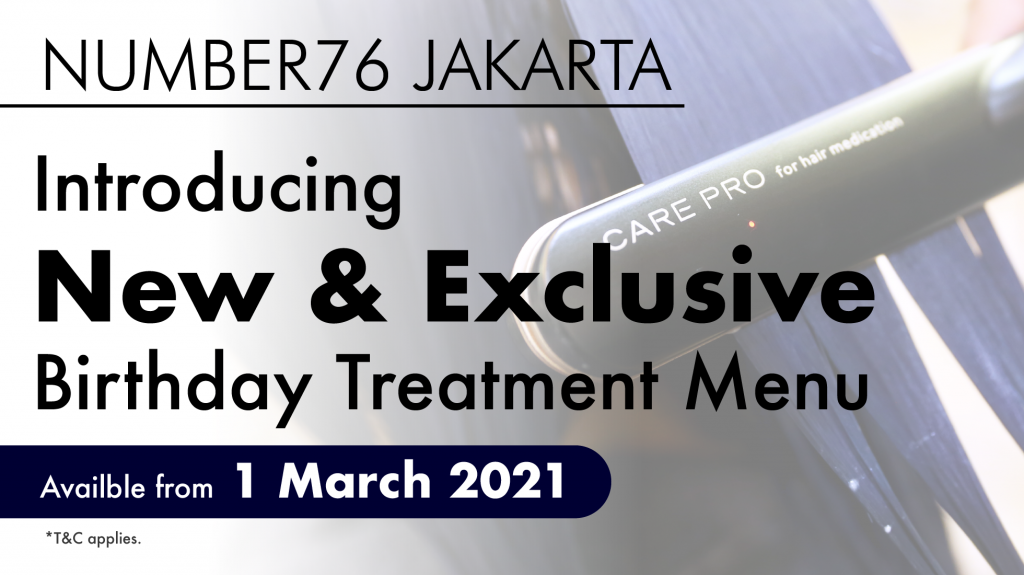 Here at Number76, we have always tried and tested different methods to take our services to a greater height with the concerns of providing the utmost results and experiences to our valued guests.

After countless trials and efforts by the stylist team, we have finally decided on a curated birthday treatment menu that will cater to every guest's hair and scalp needs.


We are thrilled to introduce the brand new hair treatment – Ultrasonic Perfect Smooth Hair Treatment and Deep Cleansing Scalp Treatment will be available exclusively for the Number76 member, redeemable any day within the birthday month!


Ultrasonic Perfect Smooth Hair Treatment
The latest upgrade of our signature Ultrasonic series treatment that takes care of your scalp and hair needs all at once.
Color safe treatment that replenish moisture to the hair
Repair damage hair by strengthening the hair strand with upgraded treatment formula
Utilizes the Ultrasonic Iron to boost treatment penetration deep into damaged hair
Complete with a collagen coating on the hair surface to prolong the treatment results
Includes a deep scalp cleansing routine for a thorough scalp and hair care
*Highly recommended for female guests.

Deep Cleansing Scalp Treatment
Deep scalp cleansing to remove solid oils and fats, including sebum impurities such as lipid peroxide
Replenish moisture in the scalp and soothe the sensitive scalp problem
Soothing massage routine to promote blood circulation on scalp
*Highly recommended for male guests.


We trust that you are as excited about this as we do! Share the great news and spread the excitement to your friends and families. We are looking forward to serving you very soon with this latest update of our birthday treatment menu.

Feel free to book an appointment online at www.number76.com or contact us at +62-21-5140-1776 / +62822 6122 7676 (Whatsapp)!




*the new birthday treatment menu will be available from 1 March 2021 onwards