GRAND LINKAGE HAIR CARE SERIES
For maintaining the style and color just when you do coloring in a hair salon. To Keep your hair looking beautiful just right after salon coloring even at home. GRAND LINKAGE makes the hair of all generations shine beautifully. Comes in three varieties to suit individual hair types.
Suitable for : Those who want to maintain the beautiful form and color forever after salon coloring. Great for both colored and normal hair
Product Features
Focus on protein loss to maintain beautiful color.
After salon coloring, each hair is well-shaped and cohesive. However, as the hair is washed repeatedly, the protein gradually leaks out and the hair loses its shape, becoming wavy and spreading.

Reduces protein loss and maintains a beautiful shape.
To repair the hair in such a condition, Grand Linkage contains Purple Rosebay Essence*. In addition, Botanical Bonding Technology** is blended to maintain the hair condition to stay beautifully after coloring session.
*Purple rosebay extract (hair repair ingredients)
**Based on joint research with Osaka Industrial Technology Research Institute, a regional independent administrative agency
Prevent the changing in color tone caused by washing hair and stop the color from fading
Color saving emulsion* blocks the dye runoff, and peach leaf extract** protects hair from chlorine in tap water.
*Amodimethicone, stearutrimonium chloride, dicocodimonium chloride [hair-protecting ingredients]
**Peach leaf extract [hair-protecting ingredient]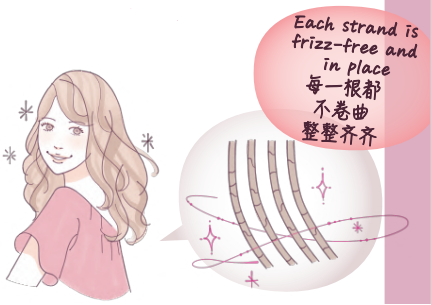 Eliminates frizz and improves hair texture
Nourishes and add shines to hair cuticle to enhance the hair texture and frizz-free. Leaving every strand feeling silky-smooth, well moisturized and shiny.
| | |
| --- | --- |
| Comes in 3 formula to suits every hair | Hair textures |
| Silky Luxe | for fine and thin hair |
| | light weight formula |
| | |
| Willow Luxe | for normal to dry hair |
| | smooths and manageable hair |
| | |
| Velour Luxe | for thick and coarse hair |
| | colored and bleached hair |
Feel free to book an appointment online at www.number76.com or contact us at +62-21-5140-1776 / +62822 6122 7676 (Whatsapp)!
We are looking forward to serving you very soon.
Feel free to book an appointment online at www.number76.com or contact us at +62-21-5140-1776 / +62822 6122 7676 (Whatsapp)!
You are always welcome to visit us for a consultation to find out which treatment suits you best!
Follow us for more hairstyle updates and latest promotions at @number76_jakarta