There are a number of reasons why you should still consider going to a professional salon for a hair cut, styling, even a coloring. You might think doing it yourself at home will save you some money, but incorrect technique will not only damage the hair, it may end up costing more money to fix it. Check out this article why you should visit a salon to get your hair done.

It's an Experience, Not Just Grooming
When you walk into the salon, you get to experience so much more than the simple cut or style that you would get at home. For example, you'll enjoy a full consultation to decide on your most suitable style as well as explain what exactly you'll want, you'll enjoy a relaxing wash and head massage before having a cut. This is the place where you can be sure that your hair is handle by the professional, and that you won't accidentally cut your hair which resulting in bad shape and length. All of this plus a cup of tea or a coffee makes a trip to a salon a worthwhile investment.


You Might Learn a Thing or Two
A visit to a hair salon is a great place to learn about your own haircare. Find out where you're going wrong when it comes to shampoo and conditioning or find out the best way to properly care for your hair at home. Even if you're only going to the salon once in a while, having a trained professional teach you how to manage your own hair between visits will ensure that you look more polished than you would on your own.


Professional Services Provide Quality and Value for Money
There are all sorts of things that could go wrong if you attempt to recreate that 'must-have' celebrity style at home, even more so with a DIY dye job. A visit to your local salon to get your dream style can make you look great and save a lot of tears from a hair disaster at home. A stylist will always give you the look you want and if you are not satisfied for any reason, they will try to make it better.

Last but not least, going to the salon is a treat!
Whether you just got your hair cut or looking for a fresh look, a visit to the hair salon will not only pamper you, it will also boost your confidence too. A new style or even a refreshed one could be all you need for that extra confidence boost ahead of a big event, a job interview or a lifestyle change. On top of that, having a haircut or treatment is relaxing and will help you to clear your mind after a long week.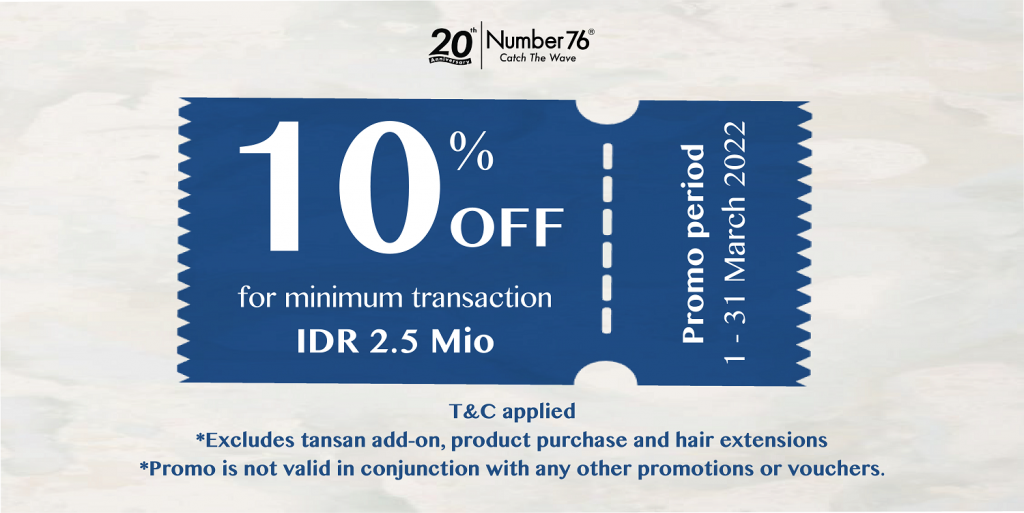 For a limited time only, enjoy 10% off on your visit for minimum transaction IDR 2,5 Mio.
*terms and condition applied
Promotion period: 1 – 31 March 2022


We are looking forward to serving you very soon.
Feel free to book an appointment online at www.number76.com or contact us at +62-21-5140-1776 / +62822 6122 7676 (Whatsapp)!
You are always welcome to visit us for a consultation to find out which treatment suits you best!
Follow us for more hairstyle updates and latest promotions at @number76_jakarta