We have exciting news to share with you!

After years of training and experiences in the hair beauty industry, we would like to welcome our newly debuted Senior Stylist Tono at Number76 Jakarta!
With this, we are thrilled to announce the debut promotion for Tono which you can enjoy 30% off all hair services* when you booked for Tono from 1 to 28 February 2022!
*T&C applied.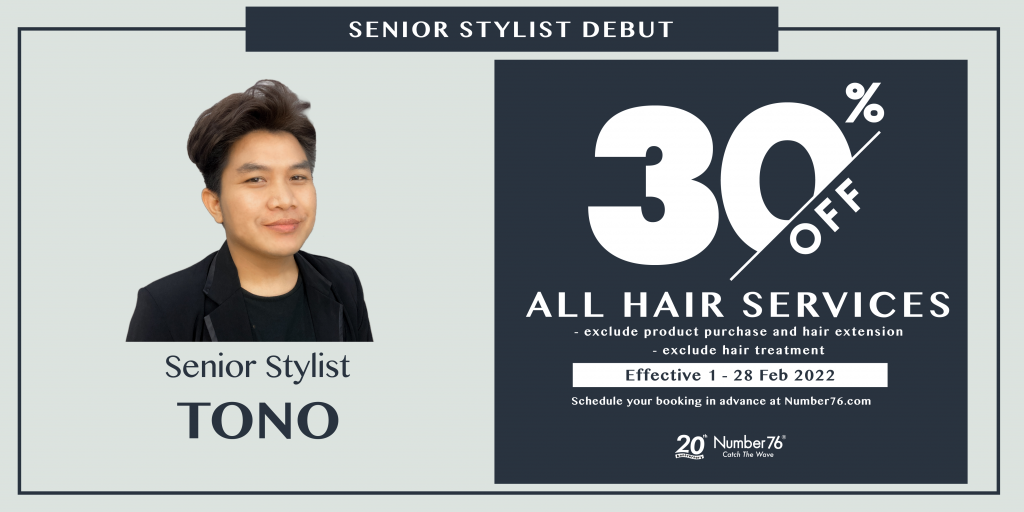 Having a huge interest in beauty industry, Tono learn from the very beginning with a strong motivation and commitment in the stylist world.

Be it a new fresh hair revamp or even a simple hair cut maintenance, Tono is always ready to make a mark in the beauty industry!
Get ready for a fresh new hairdo inspired by the latest Japanese trends!
You are always welcome to book a fabulous hair makeover with us through
Number76's online booking portal here.

We are looking forward to serving you very soon.
Feel free to contact us at 021-51401776 (salon phone) or 0822 6122 7676 (Whatsapp) if you require further assistance regarding the promotion or booking!