Hair is called the life of a woman, and many people want to maintain their hair forever beautiful. To maintain a beautiful hair, it is necessary to know about basics of hair care. Learning about proper care method will help you keep your hair beautiful.
When talking about hair care, first and foremost topic that may be mentioned is shampoo. We can even say that thoroughly shampooing your hair and keeping it clean is the very basic of hair care. However, improper way of shampooing may cause redness on skin, and in even worse case, may cause inflammation resembling acne. It is important to keep ideal way of shampooing to not cause damage to your hair.
The proper shampoo method is, first use warm water to wash away the dirt on your hair and scalp. Use appropriate amount of shampoo, apply it from the root and lather it well. Massage your scalp using your fingertips, then wash your hair as if you are swiping your fingers from the roots of your hair to the tips. Finally, rinse from the root of your hair towards the tips of your hair using warm water.
Perform pre-washing and rinsing most carefully. Even at the timing when you think that it is good enough, try to keep rinsing for another 10 seconds. Using conditioner after shampooing will change the luster and cohesion of your hair. Take out appropriate amount of conditioner and apply it mainly to the tips of your hair. Apply the remaining of conditioner on your palm to the roots of your hair. Lastly, rinse your hair and scalp until the oily feel disappears. One basic rule of using conditioner is that it must not remain on your hair after use.
After you finish shampooing, you can wipe your wet hair with towel, but there is also proper method of it. Wipe your scalp gently as if you are massaging it, and imagine you are letting the towel absorbing the water when wiping the tips of your hair. When wet, hair is vulnerable to friction and is very fragile to damage. Your hair loses its moisture easily, and if you leave it unattended, the inside of your hair will also be dehydrated. Therefore, after shampooing make sure you dry your hair properly.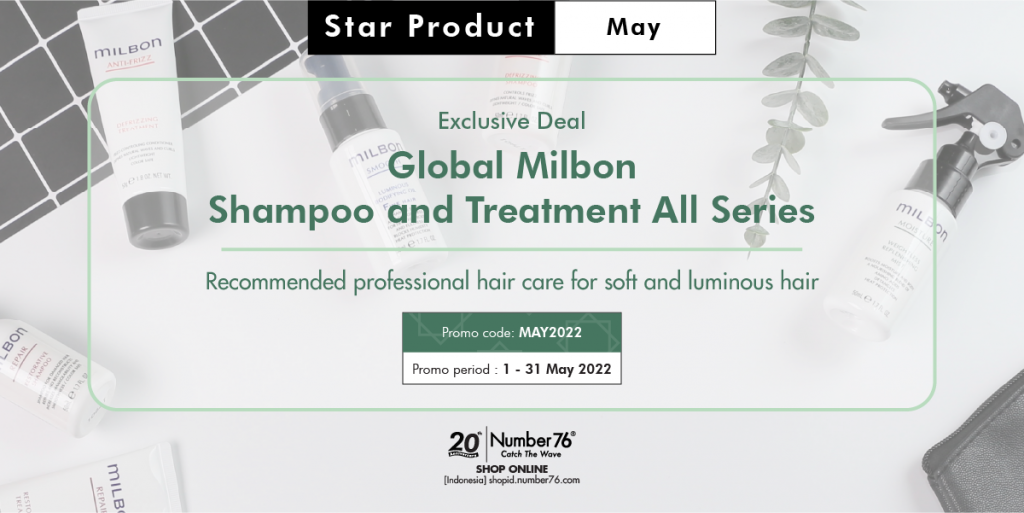 For a limited time only, key in the promo code [MAY2022]
to enjoy 10% off for this Global Milbon Shampoo and Treatment All Series only at Number76 Online Store
Promotion period: 1 – 31 May 2022

Number76 Online Store – A one-stop online shopping platform for the latest and premium hair care products.
You are always welcome to visit us for a consultation to find out which product routine suits you best!
Follow us for more hairstyle updates and latest promotions at @number76_jakarta